Organize Your Team, Globally
Effortlessly integrate with each platform to manage and streamline every employee-related operation from one place.
Seamless Profiling
Whether you want to manually add employee data or import them from other platforms, Trio enables you to track your team—all in one place.
Monitored Devices
Keep track of all employee devices, making sure everyone has what they need for maximum productivity.
Dynamic Logging
Track user and system activity seamlessly with Trio's dynamic logs, from logins to app installations.
Manage Employees Efficiently
Stay informed about your team's performance with comprehensive lists that display crucial data about the devices allocated to them, their activity log, current status, and much more.
Simple setup
Sleek Interface
Evaluative Information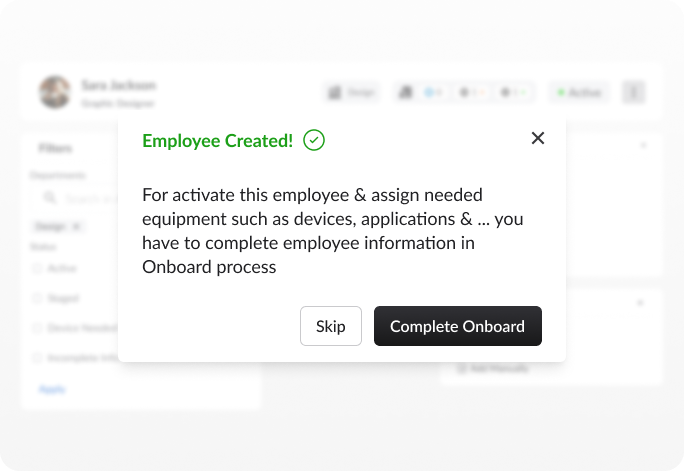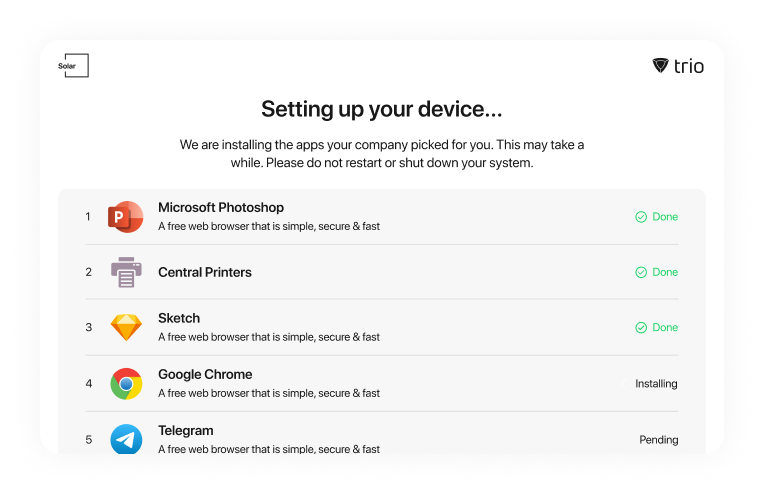 As enthusiastic as new team members are to get started with their shiny new Mac, you should be concerned about keeping things under control. With Trio, you can guide them every step of the way.
Streamline first-time installations in an error-free fashion with Trio's error-handling system. Thanks to Trio, new members cannot interrupt the setup in any way, even if they disconnect from the internet or the power cord.
Customize the post-configuration view on users' devices with Trio. Equip new members with essential tools, including the Software Desk, online resources, and more, to kickstart their journey seamlessly.
Onboarding
Trio revolutionizes onboarding with user-friendly setup guidance, ensuring new team members smoothly start their journey with access to essential resources.
Offboarding
With Trio's secure offboarding process, bid farewell to departing team members while protecting sensitive data, preserving your company's integrity and security.
Automate Approval Processes
Accelerate approval processes with Trio. From software requests to device configurations, Trio intelligently routes and processes requests, drastically reducing manual intervention and accelerating decision-making.
Every Asset in One
Central Hub
Trio - The Final Destination of All HR Systems